[ Cover Page ] [ Page One ] [ The People of Prout Table ]
Anne Papcke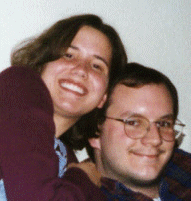 Pictured: Anne Papcke (left) and Jeremy Zawodny (right).
The three words or phrases that best describe Anne:
Wow. What can I say. I can't think of a single time that I've not truly enjoyed being with Anne. I don't even know exactly why, but we seem to get along really well. This year (as in the 1996 school year), she and I have developed a friendship that rivals but a few that I've ever had.
I think that has a lot to do with the fact that Mike and Anne have been about 2 hours apart for most of this year. I hate to sound selfish, but it's given Anne more of a chance to hang out with me than she'd have had otherwise, so part of me is glad that things worked out this way.
Anne will someday be engaged to Mike (we hope), and that makes him one of the luckiest people I know. I just hope that he never forgets it.
Strangely enough, I can still remember the first time I saw Anne. I have no idea when we actually met, but I distinctly remember seeing her. She and Mike were hanging out in and near the first floor guys lounge in Darrow Hall during my sophomore year (I think). That was the year when I roomed with Tom and we lived about 10 feet from the lounge.
Anyway, I just happened to wander into the lounge with ... hm ... either Tom or Justin--I guess I don't remember as well as I thought I did. Oh well. In any case, she was laying down on the little couch in the lounge, apparently waiting for Mike to come back from wherever he was. It's kind of funny to admit this, but I distinctly remember looking over at her, not recognizing her from anywhere, and thinking to myself "Wow. She's beautiful! I wonder who she is..."
It was about that time that Mike came back in, joined her on the couch, and they began doing cute, couple things. "Easy come, easy go." I thought. Of course, at the time I had been dating Janet for quite some time, so this is actually an evil thought (which is probably why nobody knew about it until now).
We've always been able to talk with each other about all sorts of different things. We've shared many a night sipping 23 oz. Honey Browns at BW3 or wine coolers on Second Street. Somehow we manage to amuse the hell of out each other.
One of the things that I'll probably remember most about this past year are our Tuesday night dinners. We accidentally started a tradition of having dinner together on Tuesday nights and have actually managed to keep it going for most of the semester. I always look forward to our dinners because they're a temporary escape for me--a time to step out of my usually hectic week and talk with someone I care about. It may sound corny, but it's some good, quality time together. I can't think of any other way to explain it.
In any case, Anne is one of the people I'm going to miss the most when I leave for Chicago and beyond. I really hope we manage to stay in touch, because losing our friendship is a mistake that I'd prefer not to make. As she recently suggested, once I get my pilot's license, we can reinstate our Tuesday night tradition.
Memories, Impressions, and One-liners
Here is a preliminary list of one liners:

Just remember guys--size does count!

How big is your noodle?

At New Year's Eve, we all learned to PEE LOUDER!

Mel tought us how to do tongue exercises

Let's play killer uno and have another round of strawberry daquaris

Look, it's the comet!

Justin taught me how to drink Honey Brown and became my favorite drinking buddy

Ew! A wet spot! (most famously said on Thursday nights)

Anne
[ Next ]
---
Jeremy D. Zawodny / jzawodn@bgnet.bgsu.edu

Updated: March 31st, 1997