[ Cover Page ] [ Page One ] [ The People of Prout Table ]
Kathy Gerdeman: "Kacky"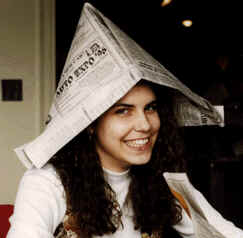 Pictured: Kathy Gerdeman.
The three words or phrases that best describe Kacky:
Contagiously Happy
Creative (most notably with socks)
Teacher
I'm not sure how I met Kacky, though I'm fairly sure it was during lunch at the Table. At some point shortly after meeting her, two things occurred to me. First, she and Mel were roommates in Prout. It's amazing what I can gather from context clues in conversations. Either that, or someone said "Hey, where's your roommate?" and Mel appeared to say "I'm right here." Secondly, I noticed that Kacky was a contagiously happy person. She was always in a good mood, had a smile on her face, and had something nice to say. It was amazing.
I think I attributed her lack of cynicism to the fact that she was a year younger than most of us, and just hadn't experienced enough of college life yet. However, experience has proven me wrong on that count. To date, she is still one of the few people who (knowingly or not) is able to lift my spirits when I'm upset, pissed off, bored, or whatnot. As Billy Joel sang, "She's got a smile that heals me." That's why I say she's contagiously happy. She is able to infect others with it.
Kacky's fun attitude and creativity are evident in one of her trademarks: crazy socks. She has a large collection of socks for ever occasion, season, holiday, and mood. I don't know what else I can even say about her socks... It's just one of those things she's known for. She'd show up and lunch and someone would usually ask her what kind of socks she had on. More often than not, she'd surprise us.
She doesn't know this (yet), but she is one of the main reasons I decided to live where I do now--across the hall from her and Mel. Back at the end of my first senior year, when Tom and I had decided to get an apartment together, she and Mel were also looking for a place to live. Somehow, the four of us stumbled upon the idea of looking for a place together and possibly even getting a larger place (like a small house) which we'd all split.
Well, we did look together, but never really found anything all that tantalizing, so we ended up moving into the building where Tom and Brandt had been living. Tom and I were to live in apartment #5 while the women (Mel and Kacky) rented apartment #6, conveniently right across the hall.
I guess we really liked the idea of living off-campus, and all the freedoms and responsibilities that come with doing so, but we also felt as though we'd miss a few things about dorm life--like being able to wander down the hall and almost always finding someone willing to talk, play, grab a bite to eat, and so on. So, in our quest to maintain some aspects of communal living, we moved into the same building together.
Anyway... I was quite pleased with the way it all seemed to be working out, because I decided I wanted to get to know Kacky quite a bit more, and probably the only way that was going to happen was if we ended up living very near each other. She and I tend to be very busy people (most of the time, at least), so the convenience of being able to walk across the hall and chat greatly increased my odds of seeing her. Yeay!
The last thing I feel that I need to say about Kacky is that I think she is a born teacher. This is great, because she is an Education major who's currently looking for a teaching job. I have never seen her teach in a classroom or even just working with kids. What I have seen is hear eagerness to explain things to people, to show them new things or things they don't understand, her patience and enthusiasm when working one-on-one with people. Somehow, she'd able to lure people into learning situations and make it fun and educational.
I realized this the morning after she had taught me about sewing. That's a whole 'nother story that I probably won't have the time to tell right now...
There's so much more I could write, but so little time. I really enjoy the fact that we never seem to run out of things to talk about--even when it means staying up way too late at night to do it.
Kacky, I'm gonna miss you. Hopefully you'll end up within a reasonable driving distance from me when you find the perfect school in which to construct Kacky's classroom.
[ Next ]
---
Jeremy D. Zawodny / jzawodn@bgnet.bgsu.edu

Updated: April 19th, 1997