It's been about a year and a half since I wrote Following the Search Engine Referral Money Trail, which looked at my traffic sources from an AdSense earnings point of view.
Realizing that I hadn't been keeping good tabs on it, I decided to use last night's closing numbers (well, from 15 minutes until midnight) to get a one day snapshot of the eCPM values for my AdSense referral tracking channels. Here's a screenshot with the irrelevant columns removed.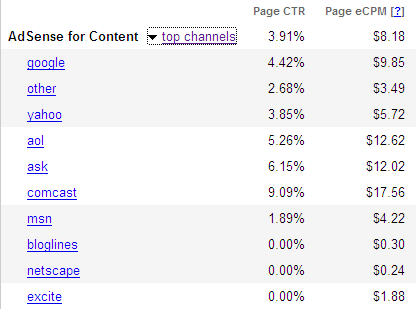 Interesting, no?
I really need to figure out how to attract more Ask.com, Comcast Search, and AOL users! Apparently the MSN Search users that used to monetize really well a couple years ago have migrated to another search engine. Good for them!
Just kidding. :-)
There's clearly a lot going on behind these numbers and it is only one day's worth of traffic. From what I've seen in the past, the fact that this is data from a weekend (and a Sunday) is quite significant. It might look different on a Wednesday, for example.
What hasn't changes since last time is the large variation among all the sources.
Anyway, I just thought I'd see if anyone else is doing similar analysis on their own personal sites.
Posted by jzawodn at August 13, 2007 10:12 AM
Privacy:
I do not share or publish the email addresses or IP addresses of anyone posting a comment here without consent. However, I do reserve the right to remove comments that are spammy, off-topic, or otherwise unsuitable based on
my comment policy
. In a few cases, I may leave spammy comments but remove any URLs they contain.