Or is it just me?
First I had Spock trying to borrow my passwords and now SnapFish won't let me see the pictures that someone is trying to show me. And their UI and language are completely puzzling.
Let me show you...
First I get an email on behalf of someone who scanned in a few documents I need to look at. It came from "HP Photosmart Share" and has a "View Larger Photos" link that bounced me over to photosmart.hpphoto.com (since putting the actual photos in the email would be too much like rocket surgery, I guess).
Fine. That page looks like this:
First off, the broken image in the series of thumbnails is not inspiring. But I put that aside and read the text. Apparently HP has my photos but won't let me see them until they're uploaded to SnapFish. WTF?!
Why weren't the uploaded and ready for my arrival?
Okay, so I have to click the "Next" button to start that process. I do that and am asked to sign in to SnapFish.
Grr. I then go through the password recovery process (since I've only used it once ages ago) and continue on a few minutes later.
A pop-up (again, WTF?!) appears that looks like this: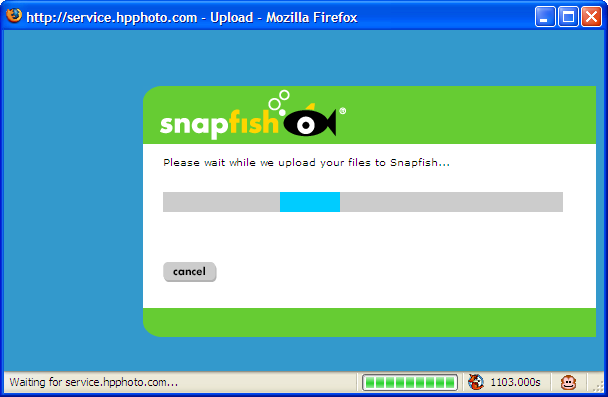 Except that it's "animted" a bit but you can't see that in a single screenshot. Notice the Fasterfox timer in the bottom right of the window?
Yeah, I've been waiting over 18 minutes to get my damned pictures!
Actually, it's up to 35 minutes now. I let it keep running while I'm typing this. And, of course, this isn't my first attempt. It's my third. I've tried this twice already earlier today.
How the heck am I supposed to get my pictures? Why doesn't this "smart" software just put them in the email so I can see them when I get the message? Attaching JPEG files to an email message is hardly advanced technology, folks!
I'm starting to get the feeling that HP wasted some serious money by buying SnapFish.
Ugh.
Some days I just want technology (and the marketing people who make decisions like that) to get the heck out of the way so I can get the things done that I need to get done.
Photo"smart"? Hardly.
Posted by jzawodn at August 13, 2007 01:11 PM
Privacy:
I do not share or publish the email addresses or IP addresses of anyone posting a comment here without consent. However, I do reserve the right to remove comments that are spammy, off-topic, or otherwise unsuitable based on
my comment policy
. In a few cases, I may leave spammy comments but remove any URLs they contain.