I got an invitation to yet another online service that I hadn't heard of today: Spock. Their about page says:
Spock is the online leader in personal search, helping users find and discover people. With over one hundred million people already indexed and millions added every day, Spock is building the broadest and deepest people specific search engine.
Putting aside the amusing claim of a beta service that most people have never heard of being "the online leader", their sign-up flow is kind of spooky. I just attempted to go through it and gave up at step #2.
In step #1 I was asked to enter my first and last name, gender, and click a couple of checkboxes (yes, I'm over 13 and, yes, I've read your terms of service (actually I haven't... who ever does?)). Easy enough.
Then came step #2 which looks exactly like this: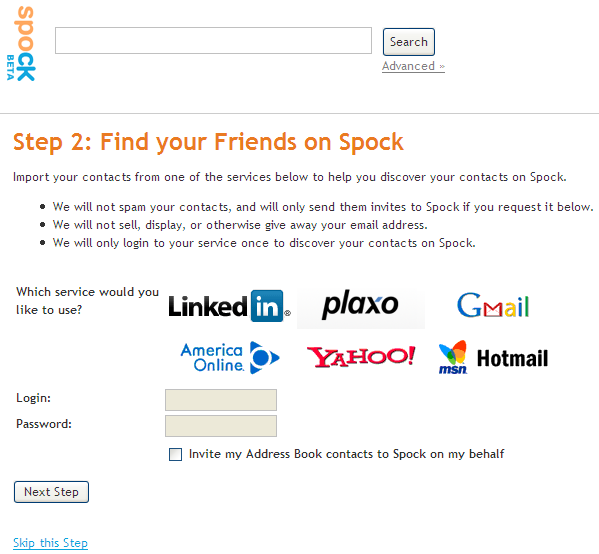 That's right. They want me to provide my username and password for the on-line services that may contain some of my most sensitive information, including: Gmail, Plaxo, Yahoo, Hotmail, and AOL.
I can't think of a very polite way to say "no fucking way", so I won't even try. There wasn't a button for that.
You see, while they make several promises on that page, there's no way to verify them and no notion of what my recourse would be if they're broken. That's a pretty high price to pay to test out a service that I may never need.
I guess I should see this as a request for address book access in the Yahoo! Mail API. But all those services would probably need address book and/or contacts APIs before Spock would stop trying to convince users to give away their passwords (likely in violation of the TOS for each one).
Posted by jzawodn at August 12, 2007 06:43 PM
Privacy:
I do not share or publish the email addresses or IP addresses of anyone posting a comment here without consent. However, I do reserve the right to remove comments that are spammy, off-topic, or otherwise unsuitable based on
my comment policy
. In a few cases, I may leave spammy comments but remove any URLs they contain.