Now that the month of October is over and my AdSense numbers are complete, I figured it was time for a slightly more detailed follow-up to my October Web Search Referral Statistics post from a couple weeks ago. What I've done this time is to graphically summarize the data I have available in a way that doesn't disclose any raw numbers, so as not to violate the AdSense Terms of Service.
Who sends me traffic?
I'd like to start by looking at basically the same data I presented last time. The bar chart below represents the relative share of traffic to my weblog from the various sources I've been able to identify.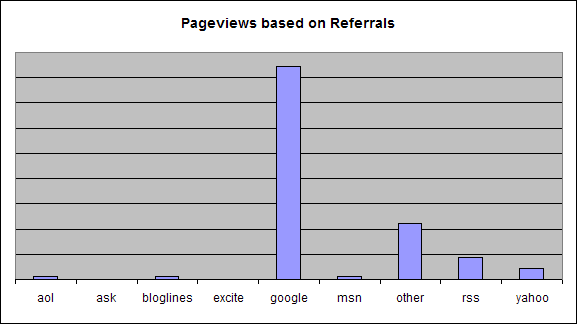 I need to explain the other and rss labels. Any traffic that comes with no referer header (a "-" in the Apache log, to be specific) is labeled as "rss" since much of it seems to come from desktop news aggregators. Of course, there's other stuff in there too, so think of it as one of two catch-all buckets. The other is "other" which represents any visit that came via a source other than those listed here. Get it? Other.
Who makes me money?
Next, let's look at where the money comes from. This is simply a chart that deptics which sources generate the most money (in the form of advertising clicks). Note that the relative shares here are quite similar to the overall traffic shares. One might conclude that the traffic equals money, which is generally true.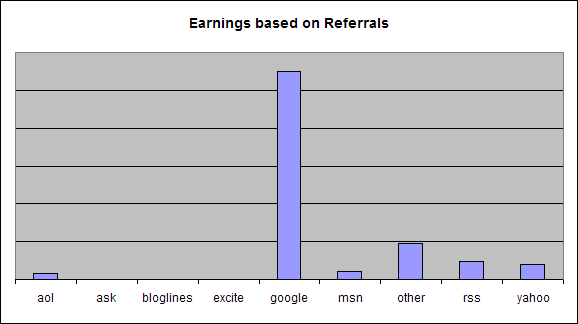 Whose users click most?
Digging a bit deeper, it's intereting to look at the click through rate (CTR) for various sources. Here's where the numbers get interesting. It seems that AOL and MSN users are more likely to click. Ask.com users aren't far behind. Yahoo is in third place with Google trailing by a fair amount.
Bloglines users, unsurprisnly, don't click much at all. They likely click through only to read comments, since my RSS feed provides full text articles. The "other" and "rss" referrals are neck and neck, and likely represents a good baseline for low-intent driven clicks.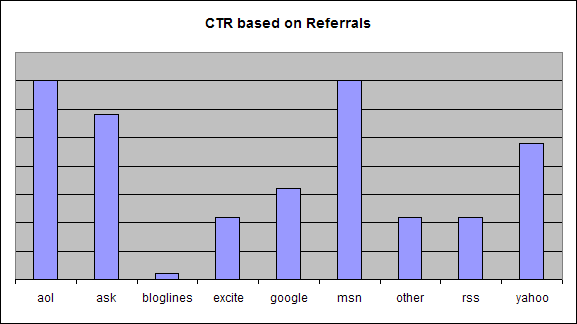 Whose users monetize best?
This chart shows the data that most surprised me at first but made more sense as I thought about it. It shows how valuable an average click is when it comes from a user referred by each of those sources. There's a real difference (on my site) among users of the various search engines.
MSN users are clearly the most valuable on an indivudal basis, but as a whole they don't respresent much of my income. If more of my traffic came from MSN, that's surely change. They're followed by AOL, Yahoo, Ask.com, and then Google. Notice again that the "rss" and "other" groups are pretty close. Bloglines, as expected, is quite low.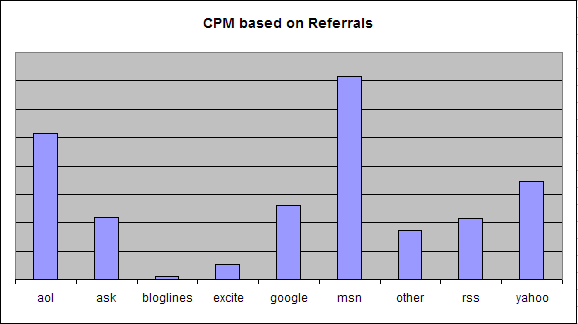 What do your numbers look like?
It was great to see how many folks publshed their own numbers in response to my last search traffic posting. I don't know how many people slice their data to this degree, but if you do I'd love to see the similarities and differences.
Enjoy.
Posted by jzawodn at November 01, 2005 10:40 AM
Privacy:
I do not share or publish the email addresses or IP addresses of anyone posting a comment here without consent. However, I do reserve the right to remove comments that are spammy, off-topic, or otherwise unsuitable based on
my comment policy
. In a few cases, I may leave spammy comments but remove any URLs they contain.