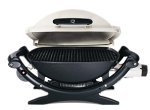 Last summer I wrote about how I was loving my new Weber Baby Q Grill:
This little grill is great. It took all of 5 minutes to unpack and assemble. I can use standard propane cylinders on it (much like I would for a small torch) and the lighting mechanism has worked flawlessly so far. Temperature control is straightforward. The only thing I might add is a decent grill thermometer, but so far I'm getting along quite well without.
It turns out that I haven't found the need for a thermometer yet.

The only thing that has bugged me since then is having to use those little propane tanks on it. I've probably gone through 10 of them since then and you can't refil them. That means you're wasting metal that nobody seems to want to recycle. And, of course, it seems to always run out while you're cooking something.
So I went looking for a hose that'd allow me to use the more normal 20 pound tank that you might see on a full-size grill. It turns out that Weber sells one. Weber part #41455 is the hose you need. The hose is available on Amazon.com for $20.
Thanks to Mom & Dad, I got said hose and a tank for giftmas. Now I just need to find a place that'll fill it up for me.
Posted by jzawodn at February 20, 2005 10:38 PM
Privacy:
I do not share or publish the email addresses or IP addresses of anyone posting a comment here without consent. However, I do reserve the right to remove comments that are spammy, off-topic, or otherwise unsuitable based on
my comment policy
. In a few cases, I may leave spammy comments but remove any URLs they contain.