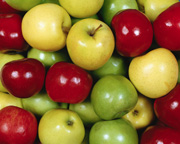 When I wandered over to URL's (our cafeteria) a bit ago to get lunch I saw a table set up in the lobby sporting Apple Computers: Powerbooks, G5s, iMacs, etc. Very cool. Except that I own and use a Powerbook already, so I didn't join the crowd to gawk at their wares.
After checking out the food selection, I noticed that the Apples on the fruit island looked good today. So I got a red one and a green one. They were crisp and yummy. (Yeah, small lunch.)
Moments after tossing the core of the second apple, I realized that I might have just been the victim of subliminal eating or something.
But it was was a good lunch. Or mabye I was just programmed to think that?
Either way, if it means having great apples in the off season, I'm all for it. :-)
Posted by jzawodn at February 22, 2005 01:18 PM
Privacy:
I do not share or publish the email addresses or IP addresses of anyone posting a comment here without consent. However, I do reserve the right to remove comments that are spammy, off-topic, or otherwise unsuitable based on
my comment policy
. In a few cases, I may leave spammy comments but remove any URLs they contain.