One of the things I've wanted ever since I moved into the new place is a decent gas grill--something that's not cheap and breakable but also not so large that it doesn't make sense for a single guy and his cats.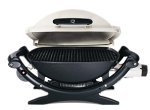 A few weeks ago, while visiting the local Orchard Supply Hardware (something I've been doing frequently), I browsed their selection of grills and found the perfect solution: The Weber Baby Q Gas Grill.
This little grill is great. It took all of 5 minutes to unpack and assemble. I can use standard propane cylinders on it (much like I would for a small torch) and the lighting mechanism has worked flawlessly so far. Temperature control is straightforward. The only thing I might add is a decent grill thermometer, but so far I'm getting along quite well without.
I acquired and used the grill for the first time while my parents were visiting. (It was a housewarming gift from them.) Since then I've used it four times (chicken, beef/steak, and kebabs (twice)) and definitely see it getting a lot more use this summer. I can't wait to attempt salmon and possibly swordfish.
If you're looking for a decent sized but still portable grill that's rugged and inexpensive, look no more. This is it.
See Also:
Posted by jzawodn at June 19, 2004 10:33 AM
Privacy:
I do not share or publish the email addresses or IP addresses of anyone posting a comment here without consent. However, I do reserve the right to remove comments that are spammy, off-topic, or otherwise unsuitable based on
my comment policy
. In a few cases, I may leave spammy comments but remove any URLs they contain.