[ Cover Page ] [ Page One ] [ The People of Prout Table ]
Poof: "The Magic Teddy Bear"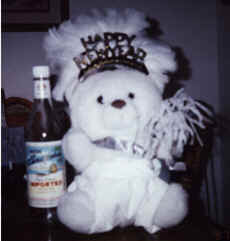 Pictured: Poof (right) and an empty rum bottle (left).
The three words or phrases that best describe Poof:
Poof has sort of become the Prout-Table mascot of sorts. He has joined us on many important occasions--most notably Spring Break and the Prout Table weddings.
This is an amusing story. Poof is a lot like a nickname that someone comes up with at the spur of the moment, and by some strange twist of fate it sticks and becomes incredible popular.
Poof was originally a gift to me from Janet from back when she and I were dating. He wasn't originally named Poof. I came up with that because I thought it was a funny name. For some strange reason, Poof became more of our relationship than you'd expect of a typical teddy bear. I imagine that was mostly to do his cool personality. He's just a fun bear to be with. Honestly.
Anyway, when it was time to come to College, Poof came with us. He spent nights in my room as well as Janet's room. Because Poof is such a social creature, he quickly came to meet all our neighbors and friends. As Prout-Table grew in both strength and number, Poof worked hard to make sure he was a part of our group. Though he rarely joined us at the Prout-Table for lunch, he was usually on-hand for many of our off-campus gatherings--like the parties at the apartment that Janet and I shared during my first senior year.
Poof has also joined us at our New Year's Eve parties and during the famous Spring Break Trip to Tennessee. He has also played a special role at the Prout Table weddings. At both of the weddings, poof wore his "ring bear" (pun intended) outfit and sat at the head table during dinner.
Everybody likes Poof because he's so cuddly and cute. He happens to give really good hugs at just the right time. He just has a knack for sensing when someone needs a hug (stressed, depressed, bored, and so on) and giving it to them. He's been known to jump and fly (literally) across an entire apartment just to give some needing soul a "Poof hug."
[ Next ]
---
Jeremy D. Zawodny / jzawodn@bgnet.bgsu.edu

Updated: April 20th, 1997