A few weeks ago I wrote up my BlackBerry Curve Impressions and heard from Chad Atchison from OtterBox. I'd never heard of them before but he said:
I work for a company called OtterBox and we make cases for several smart phones, including the Curve - I actually have one sitting on my desk right now. Anyway, if you're worried about dropping it, etc., I could probably convince our PR girl to send you a free sample.
So I had a quick look at their site and decided to go for it.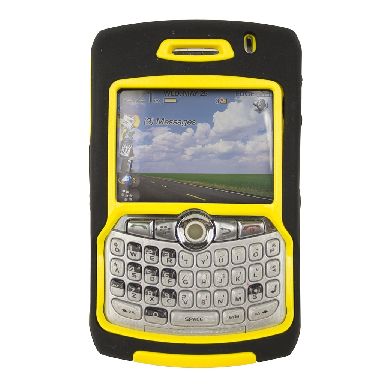 About a week later, a BlackBerry Curve Defender Case arrived and it'd been dutifully protecting my BlackBerry ever since then. The thing has been through moving stuff in a storage unit, daily use at home, a week in the Nevada desert, flying in light airplanes, hiking in Yosemite, and random stuff in between.
I'm very impressed with this rugged little case. It strikes a great balance between protection and usability. The plastic keyboard cover does a good job of keeping stuff out of it while still making it easy to type on (well, as "easy" as a blackberry sized keyboard can be). Clearly this is a well thought out and tested design. If you're looking for a case to protect your BlackBerry or other smart phone from the elements, check out OtterBox. I think it'd be worth the money if you want to keep the phone in good shape for a long time.
Posted by jzawodn at June 24, 2008 11:32 AM
Privacy:
I do not share or publish the email addresses or IP addresses of anyone posting a comment here without consent. However, I do reserve the right to remove comments that are spammy, off-topic, or otherwise unsuitable based on
my comment policy
. In a few cases, I may leave spammy comments but remove any URLs they contain.