One of the down sides to leaving Yahoo! is that the notebook computer I've been using for last few years will no longer be mine in a few days. I'm one of those people who used their company issued computer for lots of non-company stuff too.
When I start at Craigslist, I'll be getting a new laptop running Linux. But that's several weeks away and doesn't run some of the funky Windows apps I need or want access to. So I'm going to try keeping work separate from non-work this time around.
What to do?
I have a Thinkpad T43p at home that's been used mainly as a backup sever and lightweight web browser for a while now. It has a 2GHz CPU, 2GB RAM, 80GB disk, and a kick ass screen and keyboard. But it's running Ubuntu.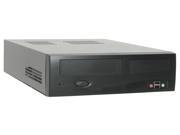 So I'm planning to use the recovery CDs to make it back into a Windows box (maybe dropping in a bigger disk along the way) and using it as my personal Windows machine. But that means I need a system to take over doing backups and that other stuff that the Thinkpad used to do.
My solution is to pull a few cheap parts off Newegg.com and build a low-end (but still probably overkill) machine that'll run Linux and do what I want. Here's what I ended up with.
I already own a SATA hard disk I can drop in. Same goes for the keyboard and mouse. Plus installing Ubuntu costs me nothing other than my time.
At a total cost of $156.96 plus shipping, it's not bad for under $200. It'll do the backup and other "home server" jobs just fine and serve as a web browsing station now and then if need be. I almost opted for the Intel BOXD945GCLF Atom processor Intel 945GC Mini ITX Motherboard/CPU Combo for even lower power consumption, but wanted to stick with a Micro ATX board for now.
I'm really impressed by what you can get for a cheap these days! The CPU is even 64 bit--not that it matters in this case.
Thoughts?
Semi-related: This old laptop: Revitalizing an aging notebook on the cheap.
Posted by jzawodn at June 20, 2008 01:07 PM
Privacy:
I do not share or publish the email addresses or IP addresses of anyone posting a comment here without consent. However, I do reserve the right to remove comments that are spammy, off-topic, or otherwise unsuitable based on
my comment policy
. In a few cases, I may leave spammy comments but remove any URLs they contain.