After reading report after report of people using Ubuntu Linux on various flavors of desktop and laptop computers, I've finally decided to give it a try.
Last weekend a Thinkpad T43p (80GB disk, 2GB RAM, 1600x1200, etc) arrived on my doorstep and patiently waited for me to finish studying for my FAA written test (passed it this morning, thank you very much).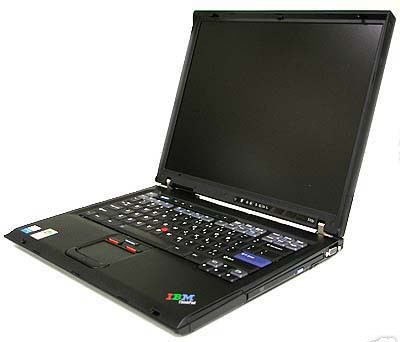 Now, it worth noting a few things.
I'm not new to Linux on laptops. This is the 4th upon which I've attempted to run Linux. Over the last six years, I've probably spent 1.5 to 2 of them with Linux on a laptop as my primary computer.
I'm not new to Thinkpads. The T43p that I now own (thanks to eBay) was preceded by the following, in reverse chronological order: T23, T21, 600E, and a 380D.
In recent years I've become quite impatient with software. If it doesn't actually make my life better, I ditch it much faster.
I had high expectations of Ubuntu, thanks to all the hype.
Given all that, I'm shocked and amazed. It works. It just works.

I booted from the Ubuntu 6.06 "live" CD and ran the installer. I then rebooted the notebook and found that it detected my wireless interface just fine. The screen was properly detected at 1600x1200, the sound worked, and the TrackPad worked fine.
Then came the real test. I decided to exercise the power management features. Suspend to disk (hibernate) and suspend to RAM (suspend) worked. In both cases, it worked as well as in Windows (better in some ways) and nearly as good as a Powerbook.
I cannot overstate how important this is: Ubuntu is the first real "desktop" Linux I've ever seen. There's a lot of polish to it, most of the "right" things have been hidden from non-Linux geeks, and it just works.
I've read so many other stories like this but had to see it for myself.
If you've been waiting years and years for desktop Linux (or laptop Linux) to finally arrive, give Ubuntu a shot. Seriously.
It's good to have a Linux laptop again. It's even better not to have to fight it. It's the freedom and power of a Debian-based Linux without all the hassle. :-)
Posted by jzawodn at August 07, 2006 09:03 PM
Privacy:
I do not share or publish the email addresses or IP addresses of anyone posting a comment here without consent. However, I do reserve the right to remove comments that are spammy, off-topic, or otherwise unsuitable based on
my comment policy
. In a few cases, I may leave spammy comments but remove any URLs they contain.