It's funny. As an aviation and military aviation buff, I enjoy seeing how technology makes it possible to do things that we'd only imagined a few years ago. Automated In-Flight Refueling of an F/A-18 Fighter Jet is a recent example of that.
That sort of automation is consistent with the amazing growth in unmanned aerial vehicles (UAVs) like the popular Predator. And with all this fancy new technology, I expected to see a next generation fighter that's self-flying and remotely controlled to some degree.
But then I came across something completely in the other direction!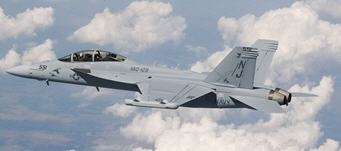 Under the heading of Cyberwar Spawns New Combat Aircraft, I learned that the military is building new 2 seat versions of the popular F/A-18, F-16, F-22, and even the F-15 fighter jets!
Even two aircrewmen may not be enough as cyber, intelligence and air combat commands have joined forces to promote new fighter designs that can conduct at least three missions at the same time.
New two-seat versions of the F/A-18, F-16, F-15C, F-15E and F-22 with advanced active, electronically-scanned array (AESA) radars will be expected to wind their way through enemy air defenses, invade networks, shoot down opposing aircraft and find very small targets and bomb them with precision.
Planners also see two-person crews as crucial in establishing local area networks so that in the event of nuclear, electronic or computer attacks (which could blackout command and control of today's network centric forces) even a few of these aircraft could quickly begin communicating, gathering intelligence and counterattacking.
That's right, they're adding seats!
Huh. Who'd have thought?
Now, the important question here: Who can get me a ride in one of those jets? :-)
Posted by jzawodn at October 02, 2007 12:38 PM
Privacy:
I do not share or publish the email addresses or IP addresses of anyone posting a comment here without consent. However, I do reserve the right to remove comments that are spammy, off-topic, or otherwise unsuitable based on
my comment policy
. In a few cases, I may leave spammy comments but remove any URLs they contain.