This is one of the coolest things I've heard about in a while and I've been meaning to post about it for weeks now. You see, one of the trickiest thing that many fighter pilots have to learn (aside from carrier landings if you're in the Navy, that is) is how to re-fuel in the air.
Modern aircraft have incredibly capable autopilots that use a mix of GPS and inertial sensors to get a very accurate idea of where the plane is and where it is going. But re-fueling has always been a manual job--until now.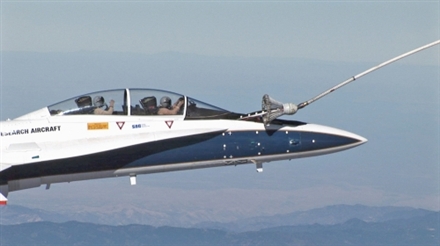 A DARPA project to figure out if computer could do the job has proven successful.
Sierra Nevada Corporation in Sparks, Nevada did most of the software work to tie in the optical sensors that fed into the navigation system (the "Autonomous Airborne Refueling Demonstration (AARD) system") once the jet was close enough to the fuel line. There's also an excellent write-up by the pilot in the front seat of that photo (the one with his hands up) in the current issue of Air & Space Magazine
Autonomous in-flight refueling. Who'd have thought?
Posted by jzawodn at September 11, 2007 03:39 PM
Privacy:
I do not share or publish the email addresses or IP addresses of anyone posting a comment here without consent. However, I do reserve the right to remove comments that are spammy, off-topic, or otherwise unsuitable based on
my comment policy
. In a few cases, I may leave spammy comments but remove any URLs they contain.