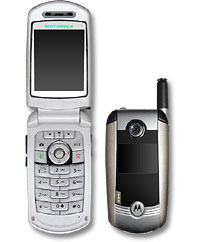 About a week ago I finally managed to snap the antenna on my Motorola V710. If you look at the date on that old post, you'll note that I've had the phone for nearly 3 years which is a long time in the cell phone world (I'm told).
The trouble is that I just love this phone. It does what I need (work on Verizon CDMA and the old AMPS network) and not too much else. And with the extended battery I bought a while back to replace the aging standard battery, it lasts seemingly forever. (I used to use it as a Bluetooth modem too, however I have since upgraded to a faster EVDO card.)
But with the snapping of the antenna, I had mostly resigned myself to the idea of replacing it and having to endure the hassle of manually re-programming 230+ phone numbers into a new cell phone. However, on a hunch, I headed to Amazon.com and typed in "v710 antenna" and was pleasantly surprised to find that replacement antennas can be had for less than $10!
That's way more cost effective than spending an hour of my life having to program a new phone and countless hours learning its quirky interface.
I love the long tail... and Amazon.com.
Posted by jzawodn at July 16, 2007 02:30 PM
Privacy:
I do not share or publish the email addresses or IP addresses of anyone posting a comment here without consent. However, I do reserve the right to remove comments that are spammy, off-topic, or otherwise unsuitable based on
my comment policy
. In a few cases, I may leave spammy comments but remove any URLs they contain.