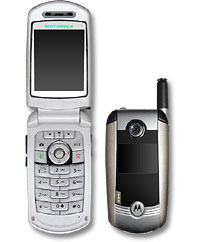 As previously threatened, I've switched to Verizon and picked up a Motorola V710 yesterday. They just arrived on Wednesday, so I'm one of the first few folks to get one (at least from my local Verizon Wireless store).
To recap, my reasons for switching are twofold:
I wanted to get onto Verizon for the superior coverage.
I wanted a Bluetooth phone. The V710 is Verizon's one and only Bluetooth phone.
So far, all I can say is that it's taking my old Sprint phone number longer to move to my new phone than I expected. The Verizon guys said "2-12 hours, but it's generally closer to 30 minutes." So we'll see. It's been about 18 hours now and the number still rings to my old Motorola Timeport.
Once the number is switched over, I'll work on figuring out how much I can and cannot do with the crippled Bluetooth Verizon ships.
Update: There's some great commentary over on Russell's V710 post. It sounds like we can expect a flash update in a few months to provide better Bluetooth support. We'll see.
Posted by jzawodn at August 13, 2004 09:18 AM
Privacy:
I do not share or publish the email addresses or IP addresses of anyone posting a comment here without consent. However, I do reserve the right to remove comments that are spammy, off-topic, or otherwise unsuitable based on
my comment policy
. In a few cases, I may leave spammy comments but remove any URLs they contain.