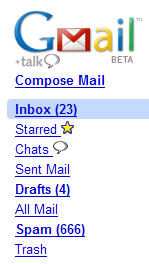 I interrupt this previously announced vacation to provide my amusement for the day (especially since the weather was not conducive to soaring).
Checking my email a bit ago, I was surprised to see exactly 666 messages in my spam folder (or whatever they're called). And that, for some reason amused me more than it should have.
If you're one of the three people who read this site and care about gliders, aviation, and soaring, you'll find photos appearing in my Parowan 2007 photo set on Flickr.
This also reminds me that I need to write about my recent experience with Google Apps. That's on the TODO list...
You may now go back to reading things that matter. :-)
Posted by jzawodn at July 11, 2007 01:55 PM
Privacy:
I do not share or publish the email addresses or IP addresses of anyone posting a comment here without consent. However, I do reserve the right to remove comments that are spammy, off-topic, or otherwise unsuitable based on
my comment policy
. In a few cases, I may leave spammy comments but remove any URLs they contain.