For a while now, the FAA and NTSB have been recording the GPS coordinates of aviation accidents. So it was probably just a matter of time before someone made a mashup using the data, right?
Wait no longer. The folks at Aviation Marine Insurance have done just that with their AVCRASH map.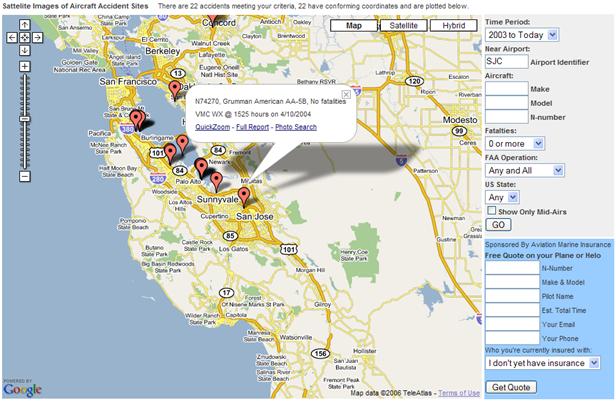 You can limit the search by year, location, aircraft make/model and N number, fatalities, and so on. Cool stuff. The screenshot above shows all 22 accidents in the vicinity of the San Jose airport from 2003 until today.
Posted by jzawodn at January 03, 2007 07:46 PM
Privacy:
I do not share or publish the email addresses or IP addresses of anyone posting a comment here without consent. However, I do reserve the right to remove comments that are spammy, off-topic, or otherwise unsuitable based on
my comment policy
. In a few cases, I may leave spammy comments but remove any URLs they contain.