I'm a huge fan of Loreena McKennitt's music. I don't remember when I first bought one of her albums (probably The Book of Secrets), but it didn't take long for me to buy the rest. Her particular variety of celtic music has a mystic other-worldly quality to it, as if someone injected a bit of Enya into a more "typical" celtic vocalist.
In fact, her Wikipedia page says:
McKennitt is often compared to Enya, but is more grounded in traditional and classical invocations using literary works as sources of lyrics and springboards for interpretation...
I found that after writing this post and looking for links to information about her.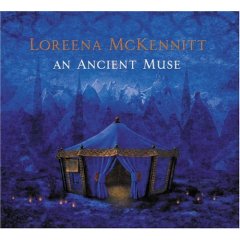 Browsing Amazon a few weeks ago to finish some last minute giftmas shopping, I happened across An Ancient Muse, her newest album. After I got over the shock of discovering that she's released album without me hearing about it, I immediately clicked the Amazon Prime free two day shipping button (all hail Amazon Prime!)
I've had the album in my hot little hands a few days now and have listened to it at least ten times. I think the highest compliment I can pay is to say that it's exactly what I hoped it would be: more of the same.
It's a worthy successor to The Book of Secrets, which has a 5-star rating on Amazon and over 440 customer reviews!
So many artists with a few albums under their belt decide to do something "bold" or "new" and end up disappointing the loyal fans that made them such a success. Not McKennitt. This album is classic Loreena. No surprises.
I love it.
My favorite tracks so far are "The Gates of Istanbul" and "The English Layde And The Knight", but the whole album is awesome. It further cements her among the ranks of my top five favorite female vocalists of all time. (Maybe I'll list the other four someday...)
Posted by jzawodn at January 02, 2007 08:40 PM
Privacy:
I do not share or publish the email addresses or IP addresses of anyone posting a comment here without consent. However, I do reserve the right to remove comments that are spammy, off-topic, or otherwise unsuitable based on
my comment policy
. In a few cases, I may leave spammy comments but remove any URLs they contain.