I must have missed the microfiber revolution. The other day I mentioned my visit to Costco looking for some micofiber towels that proved to clean a glider canopy exceptionally well (compared to the towels I used to use). Well, I'm happy to report that they work very well for cleaning flat panel LCD monitors, TVs, windows, and basically everything else I've tried.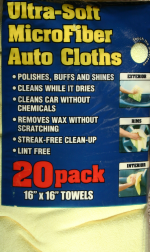 I can't wait to try them out on the inside of my car. It desperately needs cleaning on the windows and dashboard.
So if you're looking for some most excellent cleaning towels cheap, Costco has these Ultra-Soft MicroFiber Auto Cloths. The picture at the right is a snapshot of the bag. I nearly walked past them twice, so keep an eye out for the yellow towels in the blue bag. IIRC, they're $9.99 for a 20 pack.
I also snapped a picture of the flip side and have larger versions of the front and back available as well. Overkill, yes, but what the hell.
I never thought I'd get this excited about cleaning supplies. But then again, I also really like my Dyson DC14 Animal too. :-)
Now, here' what I'm wondering. Had I completely missed the boat on this? Or are these towels actually a well kept secret?
Posted by jzawodn at February 16, 2006 07:16 AM
Privacy:
I do not share or publish the email addresses or IP addresses of anyone posting a comment here without consent. However, I do reserve the right to remove comments that are spammy, off-topic, or otherwise unsuitable based on
my comment policy
. In a few cases, I may leave spammy comments but remove any URLs they contain.