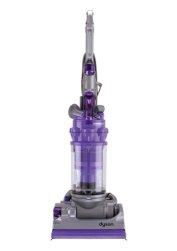 A couple months back Derek mentioned that he got a new vacuum and was really, really happy with it. Like me, he has a pair of cats that tend to shed a lot of hair and leave bits of litter in the carpet.
He said it was the Dyson DC14 Animal, so I went looking for more info. Over on Amazon.com I found a lot of good reviews and also noticed the price.
Paying more than $500 for a vacuum isn't an easy decision. However, my old vacuum was badly in need of repir or replacement. So I eventually decided to give it a shot.
The first time I used the Dyson, which is bagless, I completely filled the chamber twice. It picked up an amazing amount of cat hair, litter, and other tidbits. Based on just that one use, I was sold. This vacuum is far and away the best I've ever used or seen.
Not only does it suck really well, it comes with a ton of attachments that make cleaning furniture and stairs fairly easy too. The extension hose is significantly longer than those I've seen on other units.
As it turns out, Aaron has a Dyson, Dan got one after I told him about mine, and Andy mentioned that he might get one as well.
I should be in sales.
Chirs, if you're still wondering, buy the Dyson. You can get it on Amazon.com, Yahoo! Shopping, or Best Buy (like I did).
Update: It seems that one of my trolls was in the comments. I've nuked them all but kept the intelligent responses. There's a reason I publish my comment policy, folks.
Posted by jzawodn at January 17, 2005 07:42 AM
Privacy:
I do not share or publish the email addresses or IP addresses of anyone posting a comment here without consent. However, I do reserve the right to remove comments that are spammy, off-topic, or otherwise unsuitable based on
my comment policy
. In a few cases, I may leave spammy comments but remove any URLs they contain.