The other day I had my third encounter with the most annoying password changing requirements I've ever seen. The company (ADP) that we outsource our online Payroll accounting work to requires that I change my password now and then.
That's reasonable, but the sheer complexity and anal retentive nature of their system could drive one to drink. Heavily.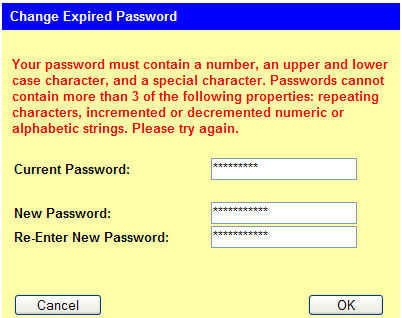 Click for the full image that contains even more rules!
Let me summarize the rules, as I now understand them.
Passwords must:
contain a number
contain an uppercase letter
contain a lowercase letter
be at least 8 characters in length
be fewer than 15 characters in length
contain a "special" character
not be recycled (though this is not explicitly listed, it's true)
not contain more than 3 repeating characters ("zzz", "aaa", etc.)
not contain more than 3 incremented or decremented numeric strings ("123", "876", etc.)
not contains more than 3 incremented or decremented alphabetic strings ("abc", "zyx", "mno", etc.)
Got all that?
Last time I changed passwords, it took seven tries to come up with something that satisfied all their requirements.
Sheesh. My online banking and brokerage accounts aren't half this difficult.
I really wonder why they don't offer to generate a new password for me. With all those rules, it's unlikely that I'll be able to create a memorable one anyway--at least without more mental effort than it's worth.
What's the worst set of password requirements you've seen?
Posted by jzawodn at February 15, 2006 12:43 PM
Privacy:
I do not share or publish the email addresses or IP addresses of anyone posting a comment here without consent. However, I do reserve the right to remove comments that are spammy, off-topic, or otherwise unsuitable based on
my comment policy
. In a few cases, I may leave spammy comments but remove any URLs they contain.