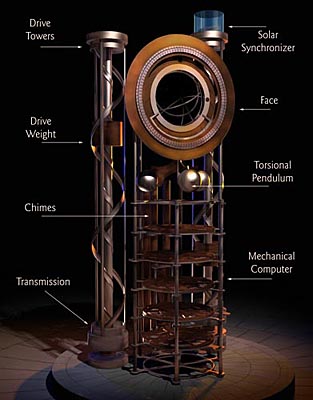 One of the many good things that The Long Now Fondation does is organize a series of free seminars (email list) in the San Fracisco area. I've wanted to attend many of them but have been unable due to scheduling conflicts most of the time. Luckily they're making audio archives of their talks available on-line.
All of our seminars are recorded and archived. This page supplies links to the media associated with each speech (mostly audio). Note that both Vorbis and MP3 files contain the same content, so only one or the other is necessary for download.
If you haven't heard about The Long Now or the 10,000 year clock they're building, here are a few tidbits:
The Long Now Foundation was established in 01996* to develop the Clock and Library projects, as well as to become the seed of a very long term cultural institution. The Long Now Foundation hopes to provide counterpoint to today's "faster/cheaper" mind set and promote "slower/better" thinking. We hope to creatively foster responsibility in the framework of the next 10,000 years.
The term was coined by one of our founding board members, Brian Eno. When Brian first moved to New York City and found that in New York here and now meant this room and this five minutes, as opposed to the larger here and longer now that he was used to in England. We have since adopted the term as the title of our foundation as we are trying to stretch out what people consider as now.
Good listening.
Posted by jzawodn at December 19, 2005 05:59 PM
Privacy:
I do not share or publish the email addresses or IP addresses of anyone posting a comment here without consent. However, I do reserve the right to remove comments that are spammy, off-topic, or otherwise unsuitable based on
my comment policy
. In a few cases, I may leave spammy comments but remove any URLs they contain.