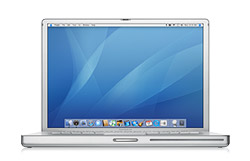 I've been talking to a few friends recently about the imminent launch of Apple's Intel CPU base Powerbooks and realized there's a good chance I'd want to switch back.
What would it take for the new Powerbooks to win me over (again)? Three things:
A version of Virtual PC (or something like it) that allows me to run Windows apps a nearly native speed. This was a major reason that I left the Powerbook. I have Windows apps that I absolutely need to run with reasonable performance (think small scale 2D and 3D real-time animation rendering). And with a real Intel CPU under the hood, why shouldn't that be possible?
The exceedingly long battery life that Powerbooks have been known for. That means at least 4+ hours of light to moderate work.
A screen with resolution that's on par with modern laptops from other vendors. That means 1400x1050 or better on a roughly 15" display.
That's really it. Everything else about the existing Powerbooks and OS X are a-okay in my book. I already know that the new powerbooks will be dramatically faster than the current crop of Morotola based machines, and that was my only other major beef (I think).
What would you need to switch to a Powerbook?
Posted by jzawodn at December 19, 2005 09:57 PM
Privacy:
I do not share or publish the email addresses or IP addresses of anyone posting a comment here without consent. However, I do reserve the right to remove comments that are spammy, off-topic, or otherwise unsuitable based on
my comment policy
. In a few cases, I may leave spammy comments but remove any URLs they contain.