One of the things I really didn't notice in the craziness of last week is the negative sentiment expressed by some bloggers and technology journalists about the new release and re-branding of Konfabulator as Yahoo! Widget Engine. It reminded me of the negative attacks we saw on the del.icio.us acquisition announcement.
In both cases, critics are working with several unfounded assumptions.
Team Assimilation and Brainwashing
Some seem to think that we assimilate teams from smaller companies and then either break them up or inject them with a bunch of suits who then set about ruining the previously cool product or service.
Here's what Arlo of the Konfabulator team has to say about that:
Hereís the thing. Weíre still the same people running and working on this project. We donít have a long line of random mysterious faces telling us what to do. As many of the folks that would be those people can attest, Iím quite firm about how I want this project run, what goes into it, and how it comes across to the end user and Widget developers.
In fact, read his whole post.
In the case of Flickr, Stewart is still running the show. Andy and crew are still running Upcoming.org. And a lot of folks have asked me what's going on with del.icio.us as well. Simple. Joshua is going to keep doing what he's been doing: building a great service.
The goal is to help these services get bigger, better, and faster while also learning from them. If we wanted to destroy them, that'd be obvious by now.
Outages and Bugs
Somehow bugs and outages are suddenly attributed to malice at Yahoo once a company has been acquired. You might be surprised to learn that we don't drop a truck load of servers off on the day the papers and signed and force new acquisitions to migrate to the "Yahoo platform" as soon as possible.
In the case of the recent del.icio.us outages, there was a power loss at the data center. (If you remember back, LiveJournal had a similar problem earlier this year.) And now there's a failed disk in a one-off piece of specialty hardware that needs to get replaced. Joshua has been dealing with that as best he can and we're accelerating the process of getting del.icio.us some new infrastructure.
Flickr still gets a massage once in a while too. Such is life. Scaling is hard but growth is good. The outages are becoming less frequent. (It's not like Google didn't have problems with Blogger for a while too.)
Oh, and let's all cut SixApart a little slack for their recent TypePad outage(s) too.
Re-branding
I don't think you'll ever see Flickr renamed "Yahoo! Photo Sharing Engine" as some have joked. Personally, I'm not thrilled with the name "Yahoo! Widget Engine" but that boat has sailed. I think Konfabulator was a cool name and we could use more cool product names and less of a focus on the generic formula of putting the name Yahoo! in front of a semi-generic term like "answers" or "music" (remember Launch?). It just feels so... Microsoft.
But that's me and I don't get to make those decisions.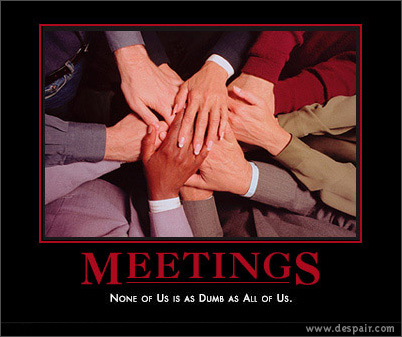 (Sorry, I couldn't resist including that.)
The good news is that the trail we blazed by NOT changing the name of Flickr has taught us a little bit about how names and name changes affect perception. It was a good thing to do and I think people are happy about it. Notice that Upcoming.org hasn't been changed to "Yahoo! Events" or "Yahoo! Calendar 2.0" or anything like that?
Hanlon's Razor
Though I often forget the source, I'm a big fan of Hanlon's Razor, which says:
Never attribute to malice that which can be adequately explained by stupidity.
It's not because I think our company is full of stupid people (a few morons maybe), but because it makes us realize that there are far fewer Big Evil Plans floating around than the detractors would like you to believe.
Sometimes I wish they'd just stick to reading Slashdot.
If you don't think we've made a lot of progress in the last year, you haven't been paying attention. A little faith goes a long way. Trust that the folks who created these great services still have the vision and conviction to keep 'em on the right track.
I do. Otherwise I'd give up and find something else to do.
Posted by jzawodn at December 18, 2005 06:14 PM
Privacy:
I do not share or publish the email addresses or IP addresses of anyone posting a comment here without consent. However, I do reserve the right to remove comments that are spammy, off-topic, or otherwise unsuitable based on
my comment policy
. In a few cases, I may leave spammy comments but remove any URLs they contain.