I had ordered some rubbermaid shelves from Amazon recently (since nobody locally sells them). Apparently Amazon.com has trouble getting the shelves too and sent me a message asking to approve a delay. Here's what I saw.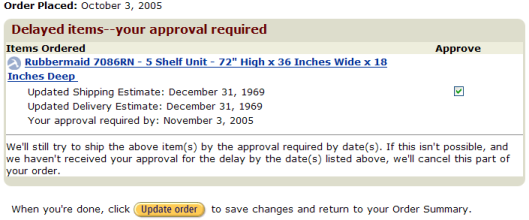 Now, either there's a bug in their time handling (passing a zero to localtime(), anyone?) or they've got a way cool time machine. Either way, it cracks me up. Just reading the text below the weird dates makes me smile.
Posted by jzawodn at October 29, 2005 10:26 AM
Privacy:
I do not share or publish the email addresses or IP addresses of anyone posting a comment here without consent. However, I do reserve the right to remove comments that are spammy, off-topic, or otherwise unsuitable based on
my comment policy
. In a few cases, I may leave spammy comments but remove any URLs they contain.