Reason #618 to work at Yahoo: fast network connections.
Just for kicks, I decided to use the BroadBandReports.com speed test to check the speed of the Internet connection as seen by my notebook.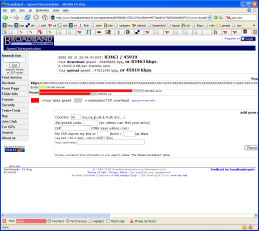 Roughly 80Mb/sec. Not bad. Not bad at all...
Posted by jzawodn at August 31, 2005 05:54 PM
Privacy:
I do not share or publish the email addresses or IP addresses of anyone posting a comment here without consent. However, I do reserve the right to remove comments that are spammy, off-topic, or otherwise unsuitable based on
my comment policy
. In a few cases, I may leave spammy comments but remove any URLs they contain.