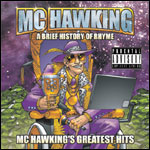 Oh, I knew this day would come. According to Amazon.com the long awaited wide CD release of MC Hawking's excellent Brief History of Rhyme will be available on December 7th.
By my calculations, that's about 35 minutes from now.
Kick ass!
You may remember me writing about this back in June. I was lazy then and didn't bother to order the CD on the MC Hawking web site, instead hoping it'd become available on the iTunes Music Store or maybe Amazon.com.
Can you say 1-Click Pre-Order?
All hail Amazon.com!
Anyway, if you haven't had the chance to sample this fine masterpiece of music, I highly recommend doing so. My personal favorites are track #7 (Crazy as F#@k) and track #10 (F#@k The Creationists).
Posted by jzawodn at December 06, 2004 11:26 PM
Privacy:
I do not share or publish the email addresses or IP addresses of anyone posting a comment here without consent. However, I do reserve the right to remove comments that are spammy, off-topic, or otherwise unsuitable based on
my comment policy
. In a few cases, I may leave spammy comments but remove any URLs they contain.