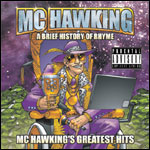 As Josh notes, the long awaited MC Hawking CD is now available. And there's even a hilarious Flash "commercial" for the disc.
I haven't bought a physical CD in quite some time. But the iTunes Music Store isn't likely to carry it, so I'm ordering my copy right now.
Sadly, their on-line store doesn't accept PayPal, so I have to enter my fu*%ing payment info yet again. More on-line payment insanity I guess. :-(
Posted by jzawodn at June 23, 2004 01:35 PM
Privacy:
I do not share or publish the email addresses or IP addresses of anyone posting a comment here without consent. However, I do reserve the right to remove comments that are spammy, off-topic, or otherwise unsuitable based on
my comment policy
. In a few cases, I may leave spammy comments but remove any URLs they contain.