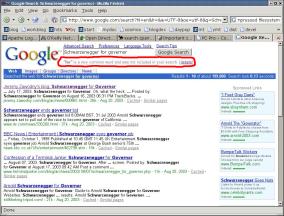 A few weeks ago, I noticed that Google seemed to think that one of my blog entries is the best match for the search "Schwarzenegger for governor"
In the comments, a crowd of people came to chide me for bashing Google. I suppose I deserve it, since I've complained about PageRank on more than one occasion.
But at that time, I missed the fact that Phillip Winn noticed that removing the word "for" from the query changes the results.
So let's look at this closely. The first screenshot on the right (click to enlarge) is from the first search on Google. Notice what I've circled in red using my high-tech crayon. For those who can't read it, it says:
"for" is a very common word and was not included in your search. [details]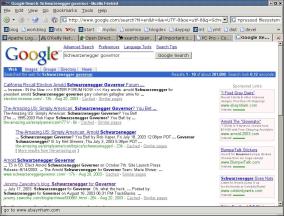 You'd expect then, that removing "for" from the query should produce the same results. After all, Google is telling me in no uncertain terms that they're ignoring "for" in my query.
Bullshit.
Try it yourself or look at the second screenshot no the right (click to enlarge). Notice that the result are different. Yes, I'm still in the results, but it's a different set of results with a different order to it. The number of documents matched is even different.
They're not ignoring the word "for" in my query. It clearly factors into the method they're using to produce those results.
This got me wondering what other lies Google tells? Have you run into any?
Posted by jzawodn at August 21, 2003 11:51 AM
Privacy:
I do not share or publish the email addresses or IP addresses of anyone posting a comment here without consent. However, I do reserve the right to remove comments that are spammy, off-topic, or otherwise unsuitable based on
my comment policy
. In a few cases, I may leave spammy comments but remove any URLs they contain.