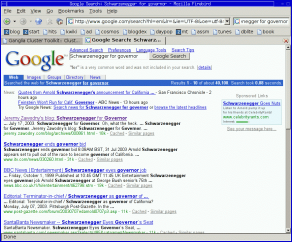 A friend just pinged me on messenger to let me know that if you search Google for "Schwarzenegger for governor" you get an entry form my blog as the first result. (See screen shot on the right and click for full image.)
I wonder how long that will last.
Maybe I should sell some ads on that page in a hurry? :-)
See Also: PageRank is Dead, Salon on The Google Backlash, and Whoring your PageRank
If this keeps up, I'm starting a Google category in my blog.
Update: Phil has some interesting thoughts on this too--beyond what you see in the comments below.
Posted by jzawodn at August 06, 2003 09:47 PM
Privacy:
I do not share or publish the email addresses or IP addresses of anyone posting a comment here without consent. However, I do reserve the right to remove comments that are spammy, off-topic, or otherwise unsuitable based on
my comment policy
. In a few cases, I may leave spammy comments but remove any URLs they contain.