A few weeks ago I asked for HTPC Wireless Keyboard and Mouse Recommendations and got some excellent suggestions. After reading reviews on-line and checking out the various specs, I settled on the Adesso WKB-4000US.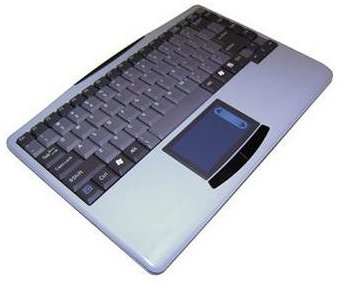 I decided on this keyboard partly because I've liked previous Adesso keyboards and partly because it seemed to be the right combination of price, size, and range for our use. I was not disappointed.
The keyboard feels very solid--not cheap at all. Range is excellent and the feel, while not excellent, is better than I expected. The trackpad works well and no special drivers were required for Windows XP. It Just Works. They keyboard even came with a set of batteries!
If there's any negative to mention, it's that the USB dongle is about twice as long as I'd have liked. But that's a pretty small price to pay for being able to sit on the couch and control the home theater PC without reception concerns.
If you're looking for a good wireless HTPC keyboard, I highly recommend the Adesso WKB-4000US. It's available on NewEgg.com as well as on Amazon.com.
Posted by jzawodn at October 08, 2008 06:53 AM
Privacy:
I do not share or publish the email addresses or IP addresses of anyone posting a comment here without consent. However, I do reserve the right to remove comments that are spammy, off-topic, or otherwise unsuitable based on
my comment policy
. In a few cases, I may leave spammy comments but remove any URLs they contain.