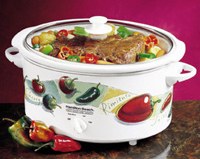 If you have a slow cooker (or "crock pot") and enjoy tortilla soup, here's a good recipe to try out.
Ingredients:
4 chicken breast halves
2 14.5 oz. cans of chicken broth
1 garlic clove, minced
2 tbsp. margarine
2 12 1/2 oz. cans of chopped stewed tomatoes
3 cups hot salsa
1/2 cup chopped cilantro
1 tbsp. or so of ground cumin
tortilla chips
Optional:
cheese (whatever you prefer in your soup)
sour cream
The steps:
Grill the chicken breasts. Shred them with a fork and knife.
Combine all ingredients except cheese, sour cream, and chips.
Cover the pot and cook on low for 8 to 10 hours.
Enjoy the soup, adding chips, sour cream, and cheese to taste.
What I like about this recipe is that it's incredibly simple, involved grilling (always fun), and takes no more than about 15 minutes to get going. You're then left with enough soup for four adults (or two for two days in our case).
Personally, I skip the cheese and sour cream. The soup itself is excellent with some chips added in.
Posted by jzawodn at February 29, 2008 07:38 PM
Privacy:
I do not share or publish the email addresses or IP addresses of anyone posting a comment here without consent. However, I do reserve the right to remove comments that are spammy, off-topic, or otherwise unsuitable based on
my comment policy
. In a few cases, I may leave spammy comments but remove any URLs they contain.