We were at the store the other day and decided to get some more chips for the occasional chips & salsa snack. We spied something that neither of us had seen before: Tostitos with Hint of Lime.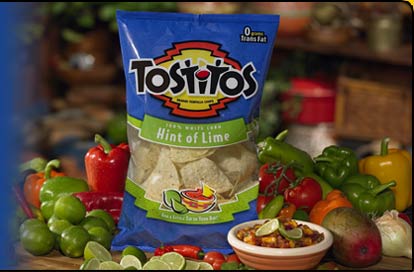 There's nothing wrong with a bit of lime, we figured. So we picked up a bag.
Kathleen had some the other night and really liked 'em. I had one during lunch yesterday and found myself needing to hit the bag myself to grab a handful. They're really good. Almost addictively good.
The lime flavoring is clear but not over-powering. They're sweet and salty at the same time. And, best of all, they're so good that you can chow on a pile without even bothering to get out the salsa (not that it'd hurt to add some).
If you're a fan of tortilla chips, I highly recommend picking up a bag. You might be surprised.
Update: A few people have pointed out that they get some of that flavor from MSG. That unfortunately explains the minor headache I got last night after eating a few more of them. *sigh* :-(
Posted by jzawodn at November 01, 2007 07:55 AM
Privacy:
I do not share or publish the email addresses or IP addresses of anyone posting a comment here without consent. However, I do reserve the right to remove comments that are spammy, off-topic, or otherwise unsuitable based on
my comment policy
. In a few cases, I may leave spammy comments but remove any URLs they contain.