About a week ago I decided that it was time to get a new washing machine. The old one had developed a problem that costs far too much to repair. So I headed off to sears.com to do some shopping.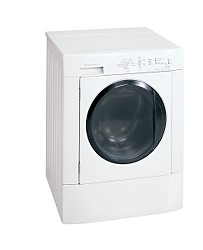 Before long I had found a model that fit the bill. It was fairly inexpensive, the right physical size, and fairly uncomplicated (and without a ton of features we'll never use). I ordered it on-line including delivery and haul away of the old unit. About 15 minutes later I had an order confirmation number in my email.
Well, on Sunday night or so I got an ambiguous email from Sears saying:
Thank you for shopping at Sears.com. Unfortunately, due to either the demand for the item(s) that you ordered or the method of your payment; we were unable to process your order. Consequently, we will be canceling your order for the item(s) listed below.
That's right. They had to cancel the order but weren't quite sure exactly why. Assuming that it was an inventory problem, I went shopping for a different washer on Monday morning. I double-checked that the new unit (a tiny bit more expensive) was available for next day delivery. I ordered it.
I waited for a confirmation via email but didn't see one. I figured they'd call me on Tuesday to confirm delivery and didn't give it a second thought. But Tuesday came and went and there was no email, no call, and certainly no new washer.
I called them on Wednesday morning to find out what was going on. They guy on the line was able to find my order after much hassling with his computer. I asked why I didn't get a confirmation number. He didn't know. I asked for the number and he gave me that (so I could look at the status on-line myself). He then said that the order was being held up by the fraud department.
I asked him to transfer me to the fraud department so that I could resolve the problem--probably using a different credit card or something. After digging in for another minute or two, he changed his tune and told me that it was held up at the warehouse.
Okay.
I asked him what the escalation path was. He said he'd email the warehouse to find out. I asked to be included on that email but he explained that they only get a Subject and Body. There is no To or CC line, I guess. Whatever.
In the meantime, I had used the order number to look up the order on-line. It confirmed that I had ordered the unit and it was scheduled for delivery on Tuesday the 9th of October. (I was talking to him on Wednesday the 10th.).
I decided to give them another day to pull their heads out of whatever orifice they were stuck in and deliver my new washer.
As you've probably guessed, nothing else happened. So I called again on Thursday (yesterday) to find out where the hell my washer was. I explained the whole story to the new customer service representative and pulled up my own order on the web site. It looked like this.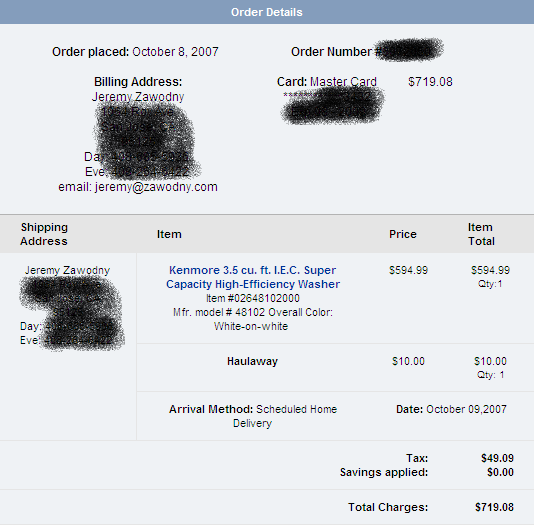 Still.
Yup, that was taken on Thursday the 11th, two days after it was supposed to have been delivered.
After some back and forth, she put me on hold to check with a manager. After a few minutes, she came back and explained that this was a "bad order" and had to be canceled and re-issued.
I asked what made the order "bad" and she said "well, it's been here for days and nothing has happened!" (as if it it should have been obvious to me). She went about canceling the order on her slow computer while I considered how much effort and time I'd already invested in getting a replacement washer.
When the time came to re-order the washer, I asked her if I could still get next day delivery so that I'd have it today. She said she didn't know and couldn't guarantee anything.
It was at that point that I said I'd look at local options instead. She actually seemed a little surprised!
Last night we stopped at the local Western Appliance on the way home from work, picked out a better washer that costs less than either unit I tried to get from Sears, and scheduled it for delivery on Monday.
In summary, if you're in the market for a new appliance, don't try giving your money to Sears on-line. They haven't figured out how to take it yet.
What is this, 1997 or 2007?!
[As as amusing postscript, the order appears to still be in their system. I can get to it on the web. I wonder if I'll ever see a charge on my credit card. If so, I''ll have to invoke the magic of a charge-back.]
Posted by jzawodn at October 12, 2007 04:52 PM
Privacy:
I do not share or publish the email addresses or IP addresses of anyone posting a comment here without consent. However, I do reserve the right to remove comments that are spammy, off-topic, or otherwise unsuitable based on
my comment policy
. In a few cases, I may leave spammy comments but remove any URLs they contain.