Late last summer I became frustrated with the Sony MDR-V6 Headphones that I've been a fan of for so long. Don't get me wrong. They still sound great and do an excellent job of blocking out noise.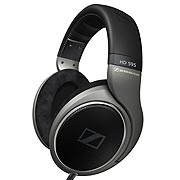 The problem was, and this took me quite a while to figure out, that the ear cups are a bit too small. That meant that I'd have sore ears after wearing them for more than an hour hand a half or so. With that in mind, I set about trying to find the impossible: a pair of headphone that sound just as good, fit more comfortably around my ears (and glasses), and would be able to handle a lot of use.
After reading a lot of reviews and some some discussions on email lists at work, I settled on the Sennheiser HD-595. Not only do they have excellent sound quality and a very long cord, they definitely fit comfortably. I've been using them a lot in the last few weeks and have absolutely no ear pain or discomfort at all. They're truly excellent headphones. It's no wonder these get a 5-star rating by buyers on Amazon.com
and the reviewers on AudioReview.com.
Posted by jzawodn at September 19, 2007 12:17 PM
Privacy:
I do not share or publish the email addresses or IP addresses of anyone posting a comment here without consent. However, I do reserve the right to remove comments that are spammy, off-topic, or otherwise unsuitable based on
my comment policy
. In a few cases, I may leave spammy comments but remove any URLs they contain.