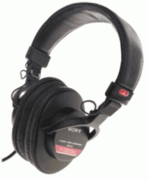 In 1995 I first tried on a pair of Sony MDR-V6 headphones. I was working as a full-time Unix sysadmin (for co-op credit) in the Department of Computer Science at BGSU and my supervisor had a pair that he loaned me for a day. I was so impressed that I bought a pair the next day and it's still the only model of full-sized headphones that I buy.
The price has come down quite a bit since then. They can be had on Yahoo Shopping for less than $75 in a few stores. If you try Amazon, you'll find that they're currently not in stock (and seem not to be most of the time).
A few weeks ago I ordered two more of these. I wanted a newer pair for work and a pair for home as well. The ones I had at work were showing their nearly 10 years of age but still sounded excellent.
What's to Like?
foam padded earpieces that cover your whole ear and block out ambient noise
padded headpiece
1/4" stereo adaptor included
excellent frequency response (the highs are clear and the lows are powerful)
the size adjustment mechanism works well and holds up over time
very long cord that never seems to lose its spring
If you're in the market for a set of full-size stereo headphones, I highly recommend the Sony MDR-V6 headphones. It's a proven design that's been on the market for at least 9 years now.
I'm seriously considering another pair just to have on hand 10 years from now when I need a replacement.
Posted by jzawodn at January 15, 2005 01:23 AM
Privacy:
I do not share or publish the email addresses or IP addresses of anyone posting a comment here without consent. However, I do reserve the right to remove comments that are spammy, off-topic, or otherwise unsuitable based on
my comment policy
. In a few cases, I may leave spammy comments but remove any URLs they contain.