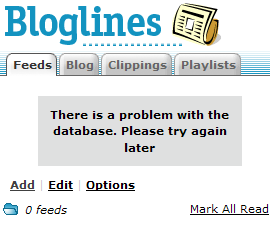 You've become slow and unreliable in your old age. I've mostly been able to ignore this now and then, but recently your pace has hindered my ability do get thru my RSS feeds in a timely fashion. But let's face it. You're not young and spry anymore.
I can look past the fact that you're not the prettiest aggregator on the block anymore. I'm always willing to put function before appearance. But when function starts to fall behind, you can't really fall back on your good looks either.
While Google Reader is calling me from afar, I sit here reading a message about your "problem with the database" and wonder how long you'll be down this time.
Are you off sneaking around with that plumber again? I thought we had something special--a real connection. Were my daily visits not enough to satisfy you?
Please tell me if it's over. I don't want a long, drawn out break-up. No passive-aggressive mind games, please. I'll pack up my OPML file and move on with life.
I miss the days when I didn't question your stability or, dare I say, performance.
Update: Bloglines responds in excellent form.
Posted by jzawodn at April 04, 2007 10:53 AM
Privacy:
I do not share or publish the email addresses or IP addresses of anyone posting a comment here without consent. However, I do reserve the right to remove comments that are spammy, off-topic, or otherwise unsuitable based on
my comment policy
. In a few cases, I may leave spammy comments but remove any URLs they contain.