I'm not sure if this is stupidity, laziness, or a mix of both, but check this out.
Back when IE7 launched, Yahoo! created a customized version and began to market it to our existing IE users. The "splash page" looked like this: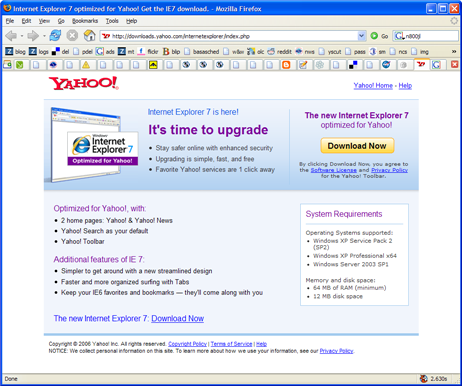 Today it seems that Google has similar intentions. So similar, that they decided to basically copy our page and slightly Googlify it. If you look, the design, layout, and most of the text are the same!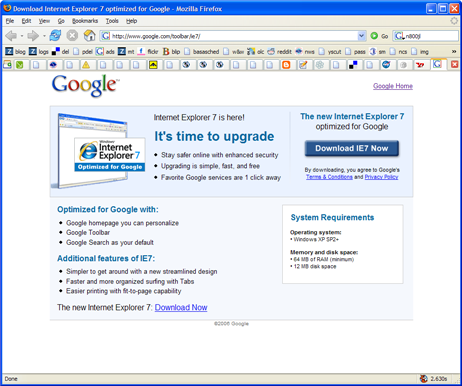 WTF is that about?
Was some product marketing person so uninspired that he or she decided it was "good enough" to just copy us?
Seriously, click those images and look at the full-sized versions. They're remarkably similar. And I've checked with our PR group to make sure that this wasn't just a template that Microsoft gave to all partners. It's not.
Yikes. Even the toolbar in the Google version of the picture has bits of Yahoo still in it.
Update (10:45pm): Google appears to have updated the page so that it looks far less like Yahoo's page now.
Posted by jzawodn at December 11, 2006 01:57 PM
Privacy:
I do not share or publish the email addresses or IP addresses of anyone posting a comment here without consent. However, I do reserve the right to remove comments that are spammy, off-topic, or otherwise unsuitable based on
my comment policy
. In a few cases, I may leave spammy comments but remove any URLs they contain.