Dear Lazyweb,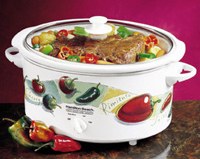 I like Chili.
Many kinds of chili: classic American beef, with corn, without, chicken, Black Bean and sweet potato chili with chocolate, and probably others I've not even sampled yet.
I own a crockpot (or "slow cooker" if you're so inclined) and am fairly lazy when it comes to cooking. I've used it only twice in over five years, if that helps.
If you have a favorite chili recipe that'd work in a crock pot, I'd love to try it.
Anyone?
Update: I have recently published Jeremy's Crockpot or Slow Cooker Chili Recipe which is quite tasty!
Posted by jzawodn at November 12, 2006 10:04 AM
Privacy:
I do not share or publish the email addresses or IP addresses of anyone posting a comment here without consent. However, I do reserve the right to remove comments that are spammy, off-topic, or otherwise unsuitable based on
my comment policy
. In a few cases, I may leave spammy comments but remove any URLs they contain.