I fired up Yahoo Messenger the other day (something that I do far less frequently anymore) and was greeted with this puzzling dialog box: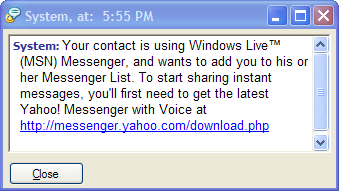 The only good thing about the dialog box is the lack of an "Okay" button, since it's far from okay.
What's wrong with it?
No context. I have no idea who it refers to. "Your contact" is about as vague as it gets. The title bar states that this is from "5:55pm" but I fired it up before 5:55pm on that given day. So I'm left wondering who and when this message is referring to.
What's this about "sharing" instant messages? This appears to be another blatant abuse of "sharing." I suspect it really means "exchanging" or maybe "sending and receiving" instant messages.
The text needs copy editing. The comma before "and wants..." is unnecessary and makes the text awkward to read.
When I'm told that I need "the latest Yahoo! Messenger with Voice" I feel like I'm being lied to. If I had waited 9 months before seeing this, the odds are good that I really didn't need "the latest" but simply something newer than what I had. It also sounds as if the voice support is required. Was my mysterious contact really trying to contact me via voice? I suspect not.
There ought to be an "Upgrade now" button on there instead of merely having a "Close" button. If you really want to me upgrade, make it easy! Why should I have to context switch over to a browser and do the download myself?
Yeah, all that from a little dialog box that tried to mess with my head.
Time to file some bug reports...
Posted by jzawodn at November 05, 2006 08:10 AM
Privacy:
I do not share or publish the email addresses or IP addresses of anyone posting a comment here without consent. However, I do reserve the right to remove comments that are spammy, off-topic, or otherwise unsuitable based on
my comment policy
. In a few cases, I may leave spammy comments but remove any URLs they contain.