I've recently put together a very simple solar charging system for the travel trailer that I and a partner have parked in the campground at the Truckee Tahoe Airport. In doing so, I was reminded of how infrequently I have to worry about DC power output and usage.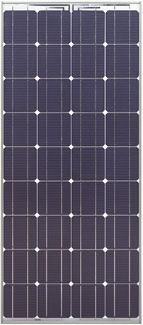 In the airplane I have a power source: the alternator on the engine. Odds are that it'll keep running for a while, since it was recently replaced after suffering a sudden death in flight.
In the glider I have dual 12 volt 12 amp hour batteries, which will last quite a long time if I leave the transponder turned off. All the other instruments are very lower power. But even with the transponder on, I've got enough juice for any flight I decide to make.
But the camper has no way to generate power. It does have a newly installed deep cycle marine battery. It's a 90 amp hour 12 volt model. So how big of a solar panel did I need to get?
It depends, of course. It depends how much it'll be depleted when we use it and how quickly we'd like it to be recharged.
In order to figure that out, you need to grok the relationship between volts, amps, and watts. Solar panels are typically marketed based on their peak power production, measured in watts. The 12 volt batteries are often measured in terms of "amp hours."
The magic formula is:
Watts = Volts x Amps
So if we make a bunch of simplifying assumptions, the 12 volt, 90 amp hour battery requires 1,080 watts (or watt-hours, to be correct) of solar power to fully charge. The 85 watt Shell SQ-85P panel we bought could do the job in 12 hours, assuming optimal light and various other things that are never all true in the real world.
But if you assume 3 hours of good light per day (that's very conservative in the Sierra Nevada mountains), the battery will be back to normal in 4 days. So even if we were to run it down pretty far over a 3 day weekend and then come back the next Friday night, all would be well.
This concludes your physics/electricity lesson for the day.
I'll document the charging system in more detail if anyone is actually interested.
Posted by jzawodn at August 24, 2006 08:52 PM
Privacy:
I do not share or publish the email addresses or IP addresses of anyone posting a comment here without consent. However, I do reserve the right to remove comments that are spammy, off-topic, or otherwise unsuitable based on
my comment policy
. In a few cases, I may leave spammy comments but remove any URLs they contain.