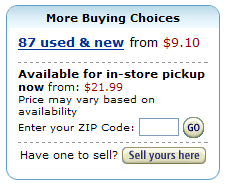 Earlier this year I decided to do something about the amount of money I spend at Amazon.com on books. While I am buying fewer books now, the biggest change I made was to buy used books rather than new.
After a few experiences, I've found that the used books are often indistinguishable from new and come at anywhere from a 20% to 60% discount even after you factor out shipping (I have Amazon Prime, so I'm used to "free" shipping).
Why didn't I think of this sooner?
If you regularly buy books from Amazon and aren't all hung up on having something brand new, I highly recommend looking at the used options. It adds up over time.
Posted by jzawodn at June 28, 2006 07:41 AM
Privacy:
I do not share or publish the email addresses or IP addresses of anyone posting a comment here without consent. However, I do reserve the right to remove comments that are spammy, off-topic, or otherwise unsuitable based on
my comment policy
. In a few cases, I may leave spammy comments but remove any URLs they contain.