Late in the day on Friday (after the hail had fallen), it seemed that a higher than normal number of co-workers were headed up to Lake Tahoe for a weekend of skiing.
Parking Lot with Hail
Originally uploaded by jzawodn.
I had been watching the weather closely and noticed that there was roughly a 16 hour window in between winter storm fronts. And, as luck would have it, most of the time was during daylight hours on Saturday. Keeping and eye on Dr. Jack's BLIPMAP and the FAA San Francisco Area Forecast, I hoped for good soaring.
As I drove down to the airport on Saturday morning, the weather wasn't quite what I'd hoped it might be. There was a lot of ground fog and low clouds as I got past Gilroy and into the Hollister area. But I was committed to fly my glider for the first time in many months.
Things improved after all the glider assembly started. There were clouds on both mountain ranges and the bases seemed to be slowly rising. However, they weren't the well defined cumulous I'd like. They looked ratty and weak.
Nevertheless, I launched a bit after noon and towed toward the east ridge. The bases were at 4,200 feet in places, so I released at 5,2000 to give me a few options for sorting out which areas were working best.
I was surprised to find that the lift was quite good on the sunward (and windward) faces of the clouds. So good, in fact, that one could reliably "cloud surf", gaining altitude along the edge of the cloud. Sometimes it was even possible to get on top of and above the clouds!
After playing around the immediate local area, a group of us ran down the east ridge and back a few times, rarely turning or losing altitude. We surfed the clouds the whole way.
I shot several pictures of my view from the cockpit on my final run down the ridge. See my Cloud Surfing set on Flickr for all of 'em.

Cloud Sufring!
Originally uploaded by jzawodn.
After that, I hung around locally until hearing that some gliders were crossing the valley over toward Fremont Peak (on the way to the Monterey coast). I followed about 20 minutes behind and made excellent progress across the valley, arriving at 3,2000 feet in the foothills.
A new thick layer of clouds was moving in as I began the valley crossing and it was responsible for shutting down most of the convective lift by the time I got over there. I struggled for a little while with Eric and Peter but eventually headed back to the airport as my feet got cold and it became clear that the day was nearly over.
I was mildly concerned that I hadn't landed my ship in a long time, but that turned out to be unfounded. My landing was uneventful. In fact, I was surprised by how quickly I settled back into flying the 304C.
All in all, I had a 3.25 hour flight on a day when I expected about half that. Not bad for early March.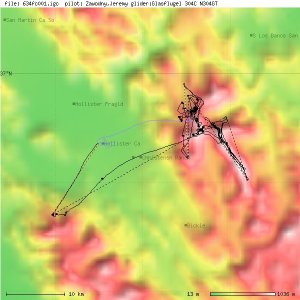 The IGC file is here and the details are on OLC. I'm a bit surprised that OLC managed to credit me 101km for the flight, but I'll take it! :-)
Posted by jzawodn at March 05, 2006 06:07 PM
Privacy:
I do not share or publish the email addresses or IP addresses of anyone posting a comment here without consent. However, I do reserve the right to remove comments that are spammy, off-topic, or otherwise unsuitable based on
my comment policy
. In a few cases, I may leave spammy comments but remove any URLs they contain.