I'm addicted to Anderson Powerpole Connectors for low-voltage DC wiring projects. In case, like me, you've missed the revolution and the religion that is Powerpole, a picture is worth a thousand words: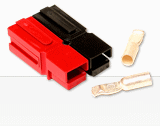 Powerpole connectors are either "clever" or "genius", depending on your point of view. I think they're a little of both. They're little snap together electrical connectors that can be used in a ton of DIY projects.
The pure simplicity of a few bits of plastic and properly shaped metal makes me happy.

You see, my skills with the soldiering iron never got beyond the "dripping hot metal all over things phase", so I was pretty excited to discover that PowerPole connectors almost completely eliminate the need for me to bust out the iron.
Instead, I can use these little wonders (along with a crimp tool and wire stripper) to make whatever I need.
They're apparently all the rage in the Ham Radio and RC Plane communities. And now they're the backbone of the solar charging rig for my glider as well.
If you're looking to buy some, I highly recommend PowerWerx.com. They've got connectors, cable, pre-made cables, crimp tools, and more. And if you want a bit more hands-on info, Fly RC Magazine published an article called Using Anderson Powerpole Connectors that's quite helpful as an introduction.
Posted by jzawodn at February 22, 2006 02:28 PM
Privacy:
I do not share or publish the email addresses or IP addresses of anyone posting a comment here without consent. However, I do reserve the right to remove comments that are spammy, off-topic, or otherwise unsuitable based on
my comment policy
. In a few cases, I may leave spammy comments but remove any URLs they contain.