I've seen a lot of "PowerPoint is Evil" spoof images, but this one is just terribly amusing: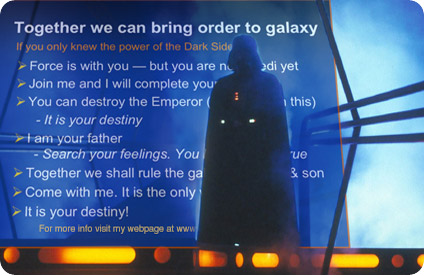 For the rest of the story, including Yoda's presentation style, check out the Presentation Zen blog. There's good stuff there for anyone making presentations.
Posted by jzawodn at January 31, 2006 10:54 AM
Privacy:
I do not share or publish the email addresses or IP addresses of anyone posting a comment here without consent. However, I do reserve the right to remove comments that are spammy, off-topic, or otherwise unsuitable based on
my comment policy
. In a few cases, I may leave spammy comments but remove any URLs they contain.