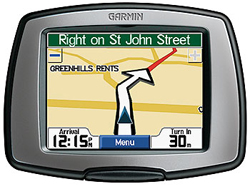 For the last several months, I've been driving with a Garmin Streetpilot c340 GPS unit in my car. I first experienced the utility of this GPS when visiting Taiwan back in November. On the last day of the trip (a Saturday), my host picked me up in his car and had a multilingual C340 that he used to navigate the area.
I was impressed with the size, speed, accuracy, and functionality. It didn't take long before I decided it'd be far better than the navigation software I occasionally used on my iPAQ PDA. I've had it roughly two months and am still relatively pleased.
The Good:
excellent screen
easy to move into a second vehicle using the suction cup mount
internal battery that keep the unit working if you unplug it
voice navigation pronounces most names correctly (even in California)
satellite acquisition time is generally quick
USB connection and software to upgrade maps
route re-calculation is snappy
it's easy to store favorite location
many ways to find a destination (by name, address, intersection, etc.)
arrival time estimates are surprisingly good
The Bad:
it occasionally chooses bad routes for destinations I've driven to using it before
finding a business name in its database has been hit or miss in my experience
the traffic service costs extra (I don't have it)
there's no way to see an overview of a route before you begin driving it
it always crashes at one spot in Berkeley
In summary, it's a great GPS for most city driving. If you've ever used the GPS systems built into some rental cars, it'll take almost no time to get started with the Garmin c340.
Posted by jzawodn at January 31, 2006 07:18 AM
Privacy:
I do not share or publish the email addresses or IP addresses of anyone posting a comment here without consent. However, I do reserve the right to remove comments that are spammy, off-topic, or otherwise unsuitable based on
my comment policy
. In a few cases, I may leave spammy comments but remove any URLs they contain.