It's been fun to watch the evolution of Gmail's spam filtering. In the early days, it was laughably bad. Even the most basic spam, the stuff that SpamAssassin would score in the 20+ range, would make it through.
But today things are quite a bit different. Based on my experience, the spam detection and filtering in Gmail is as good as Yahoo's SpamGuard. Though I don't regularly use Yahoo! Mail, we do have the benefit of SpamGuard on our corporate mail servers so I've developed a subjective notion of how much spam sneaks through both systems. At this point it's a draw. In any given day, I get maybe 15 – 25 spam messages on both systems. And I suspect they're both using virtually all the same techniques anyway.
But all along, I've been popping my personal email into Thurderbird from my own mail server, which runs a combination of spam-fighting stuff. And just the other day I realized how much less effective it is. Even after training Thunderbird's spam filter for months, the combination of SpamAssassin and Thunderbird are far less effective. I still end up with 75 – 100 spams a day in Thunderbiard, when Gmail is knocking out most of 'em.
The only logical thing to do was take advantage of Gmail's spam filtering and secure POP access.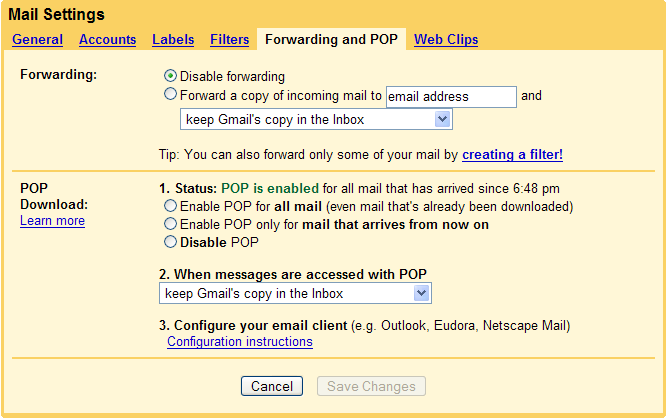 Gmail makes it easy to turn on POP access to your inbox and even gives you smart choices about what to do with the Gmail copies once you've popped your mail:
keep Gmail's copy in the Inbox
archive Gmail's copy
delete Gmail's copy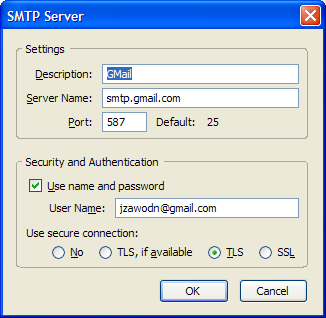 That, combined with the fact that you even get secure (meaning encrypted) POP access and the ability to use Gmail as your SMTP relay (once you setup SMTP AUTH in your mail client) tells me one thing:
The folks behind Gmail are trying to give everyone the sort of power and flexibility that used to come only with running your own mail server.
The results so far have been impressive. I'm spending less time dealing with the crap that used to end up in my inbox. Gmail is usable at home, on the road, and at conferences with unsecured networks.
This all makes me wonder if it's worth it for smaller organizations to bother running their own mail servers anymore. If Google offered small business mail the way Yahoo does, there'd be some serious competition in the market and it'd make a lot of people's lives much easier.
For the last 10 years I've helped run the various services for WCNet, a community ISP in northwestern Ohio. We have roughly 15,000 users and get a lot of spam. Even with greylisting, which helps a lot, we're still dealing with a lot of spam. (Postgrey kicks ass as a greylisting implementation for Postfix.)
Amusing side note: WCNet used to stand for "Woody County FreeNet" but the notion of a FreeNet is pretty old, and the service has grown to cover much of northern Ohio and southern Michigan. So we just call it WCNet these days. :-)
Posted by jzawodn at January 02, 2006 07:17 PM
Privacy:
I do not share or publish the email addresses or IP addresses of anyone posting a comment here without consent. However, I do reserve the right to remove comments that are spammy, off-topic, or otherwise unsuitable based on
my comment policy
. In a few cases, I may leave spammy comments but remove any URLs they contain.