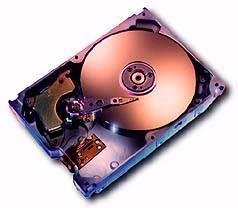 A few weeks ago when I wrote Cheap On-Line Storage Coming Soon, I suggested that the stars are beginning to align in a way that makes it possible to build companies that offer services like on-line backups.
I was surprised at many of the comments left in response to that post. Many people were of the opinion that it just didn't make sense because US broadband is asymmetrical (read: crippled). The limits imposed on upload bandwidth made it a useless offering.
Andrew said:
I've been hoping for the same thing, but I don't think it can scale with current broadband when you start taking high-res photos, and digital video? I've got about 500GB of data (and probably another 100GB on old Hi-8 tapes I haven't digitized yet) and no matter how cool the online data storage features are it's almost impossible to upload that much data. If you had a T-1 at 1.5Mbs you're looking at 31 days. Even a more modest 50GB of data would take 3 days. Am I missing something?
Greg said:
Yeah, Cheap On-Line Storage *isn't* Coming Soon. Where's your head at? Anything more than a couple gigs takes too long to transfer. And it'll be cheaper just to buy your own disks.
Bob said:
bandwidth is the obvious issue for hundreds of gb, esp considering most broadband is still asymmetrical.
The common alternative a few suggested is roughly "buy a big external USB disk and just backup your own stuff."
But that's a solution that doesn't work for most people. You need to automate or remember to run backups. Most people forget. They're lazy, forgetful, or simply too busy. There are so few people that have a remotely sane backup system in place, that it's pretty depressing.
Another View of the Ladder
Originally uploaded by jzawodn.
That leads me to swimming pools.
The annual opening of our swimming pool was a family ritual for years. It still is, but I no long live anywhere near my parents so it's hard to participate. We had to get all the gear out of storage, remove the cover, clean it, clean the pool, get the filter running, and fill the pool.
The pool held roughly 10,000 gallons of water and took a long time to fill. While some people had been known to fill using a really big hose from a fire hydrant, we did the simplest thing that could work: drop in the garden hose.
It took many hours to fill a swimming pool with the garden hose doing the work, but we really didn't worry about it that much. Sure, the water pressure in the rest of the house was a bit lower during that time. It will still livable.
Eventually, the pool was filled and everyone was happy.
I think the same technique works for on-line backups of one's hard disk. Using Quality of Service (QoS) controls at the network level and some intelligent scheduling on the client side, a service could offer the peace of mind that comes from automated and professionally managed backups that don't bog down the computer or the network.
Sure, there's the one-time cost of getting that first backup done. It's not that different than desktop search.
What am I missing?
Update: Fred Wilson has put his thoughts on-line in Online Backup's Inflection Point, in which he says "I have been using online backup for over ten years in my home. I have even used it over dial-up. You just let the backup go over night."
Yup. :-)
Posted by jzawodn at December 05, 2005 01:38 PM
Privacy:
I do not share or publish the email addresses or IP addresses of anyone posting a comment here without consent. However, I do reserve the right to remove comments that are spammy, off-topic, or otherwise unsuitable based on
my comment policy
. In a few cases, I may leave spammy comments but remove any URLs they contain.